TRY PI PROGRAMME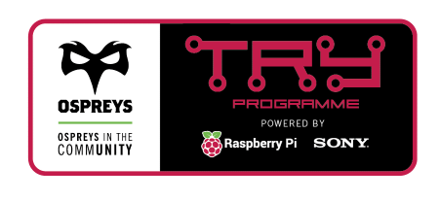 Education is one of the four pillars supporting Ospreys in the Community. The Ospreys Try Pi Programme supports education aims of the foundation and operates in Swansea, Neath and Port Talbot and Bridgend.
A 4-module programme aimed at years 5-6, to introduce coding using the Raspberry Pi with the Ospreys brand as a tool to increase engagement.
Module 1 – Sony Coding Tour
Module 2 – Player Visit to School
Module 3 – Inclusive Rugby Festival
Module 4 – Liberty Stadium Visit & Warburton's Session
SONY UK Technology Centre provide pupils with the opportunity to learn about local engineering prospects. The Sony unit covers an interactive visit to the factory in Pencoed to see the latest technology as it's built. As well as a coding session on the Raspberry Pi which allows pupils to create interactive rugby games and code the Welsh national anthem..
For more information, contact:
Nick Lockley
Email: nick.lockley@ospreysrugby.com
Tel: 01792 616505